Zaheer Khan and Sagarika Ghatge truly had a wedding to remember. One of our favorite cricketers and our very own Chak De! girl tied the knot on 23 November 2017 in a very private ceremony. With a low-key wedding but a gorgeous reception, we're here to give you the best wedding Moments from Zaheer and Sagarika's Marriage.
After staying tight-lipped about their relationship for long, Zaheer and Sagarika went public in April 2017 by posting a cute picture on their respective Instagram handles. It all started when he was bowled over by her gorgeous looks and she was mesmerized by his calm yet charming personality. The love story of actress Sagarika Ghatge and cricketer Zaheer Khan is nothing but a fairytale.
Special Moments From Zaheer and Sagarika's Marriage



So we brought you some of the magical moments from Zaheer and Sagarika's marriage which will make your day:
A Lowkey Marriage



While marriages of people belonging to different religions are still not a common sight in our country, our celebs are out there setting examples.
It is an inter-religion marriage between Sagarika who is a Hindu and Zaheer who belongs to a Muslim family. Sagarika and Zaheer said that their parents are open-minded and understand that marriage is not about marrying someone from the same religion but about marrying the right person. The couple decided to ditch the traditional wedding and opted for a court marriage attended by both families and close friends.
Sagarika looked gorgeous in a red Sabyasachi saree and silver jewelry while Zaheer wore a blush pink kurta for the ceremony.
Vidya Malvade, Sagarika's co-star in Chak De India and a family like friend was present at the ceremony. Talking about friends who are like family, Hazel Keech was also there to join the ceremony.
The Grand Reception



Even though the marriage ceremony was private, the duo planned a grand cocktail party and a reception. A stunning reception was held for Bollywood celebs and Zaheer's Team India colleagues on November 27 in Mumbai's Taj Mahal Palace, Colaba. Sagarika wore yet another stunning outfit, a golden Sabyasachi lehenga with chunky earrings and necklace. The cricketer wore a royal blue bandhgala and looked extremely handsome next to his bride.
When Bollywood-Cricket Met, Again!



Looks like the two big worlds of India – Bollywood and Cricket are suprisingly very compatible. Couples like Harbhajan Singh and Geeta Basra, Hazel Keech and Yuvraj Singh are beautiful examples of this. Another addition to this list is dashing the couple Virat Kohli and Anushka Sharma who attended Zaheer and Sagarika's Marriage Reception together.
Virat and Anushka were spotted showing some killer moves on the dance floor.
The Miss Universe was also in attendance for Zaheer and Sagarika's Marriage and looked like a diva in a golden ensemble. Another Bollywood star to join the celebration was Sunil Shetty, who doesn't seem to age.
Live, Laugh, Love!



Mr. Khan took to the stage to thank his guests before cutting the cake, yes! there was cake, with the message of 'Live, Laugh, Love' written on the cake, proving these two are the perfect match for each other. Take a note of how Sagarika hands over the first bite to her dearest hubby.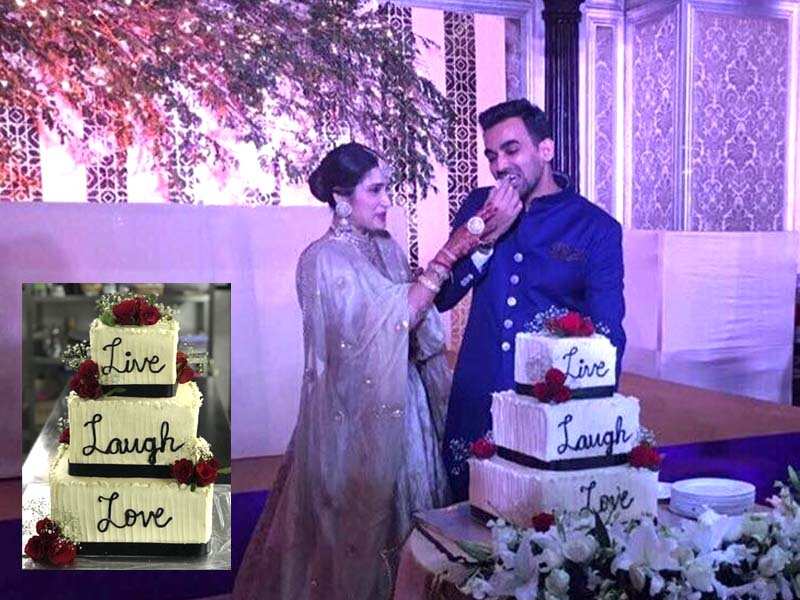 Saniya Mirza at the reception, shining like the star she is even off the court.
And everyone seemed to be having a blast, looking like royals.
A cricket full house can't be complete without our Viru and our beloved Master Blaster.
This Party Isn't Over Yet!

The celebrations did not stop at this reception, this party was followed by another dancing night with the couple's friends and family. From everyone looking at their absolute best, let's see how this fiesta went.
Sagarika looked enchantingly breath-taking in a lehenga by Falguni and Shane Peacock for the celebration. The muted lehenga was paired with ruby stone jewelry. While Zaheer chose a checkered blue blazer.
Yuvraj Singh also attended the night with wife Hazel Keech. Keeping is classy, both wore black for the cocktail party. Along with Sania Mirza who looked lovely in an emerald cold-shoulder gown.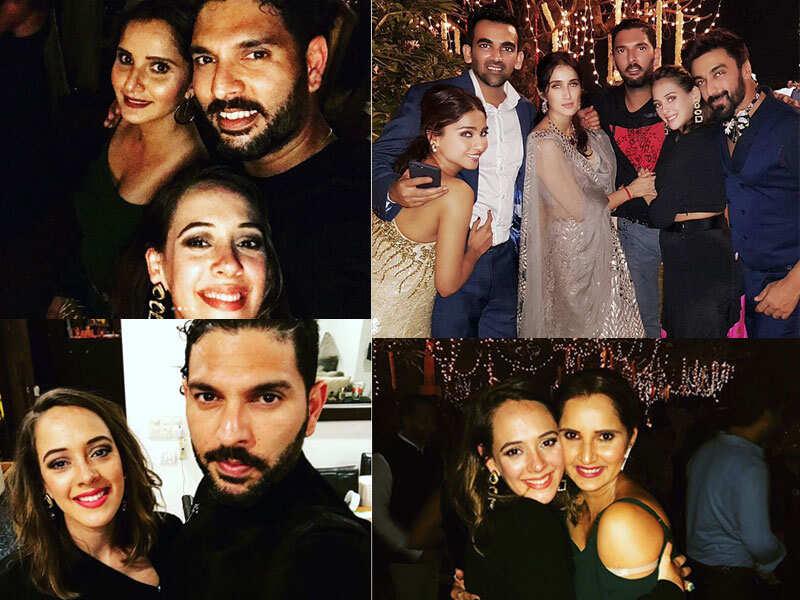 Recommended Read: Virat and Anushka: Wedding of the Year
We also caught Ashish Nehra showing off some moves at the party. Even though the images are blur, we can make out that everyone had one hell of a time.
And some more fun moments from Zaheer and Sagarika's Marriage.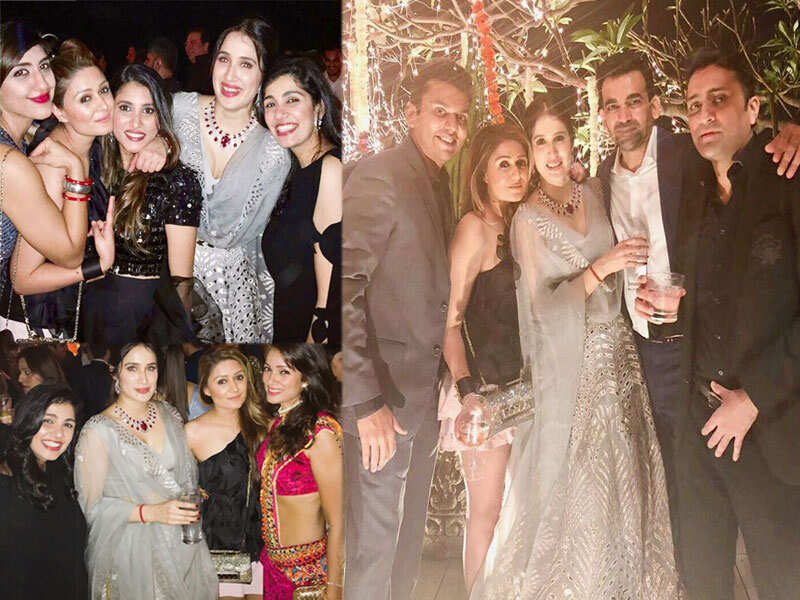 Doesn't it look like the wedding of the year? With bang on star power and our handsome cricketers, this wedding celebration will be definitely a cherished memory for the couple as well the guests. And, we at Wedamor, wish the new couple health and love for the rest of their lives.
Related
Comments
comments
Trisha is a design student who is fond of writing her feelings out. An ardent reader, she has a special place for dogs in her heart. You'll usually find her looking at life like it's a piece of art while sipping her cup of tea.
Related posts
Weddings are the best part of a bride's life. She wants to look her very best on this very special day. Therefore to help her achieve this, we have come up with these new and trending wedding necklace ideas, to help her choose the best one for this special day of her life.
All Time Favourite Diamond Wedding Necklace



Have you ever wondered, how much women love diamonds? So we recommend that this wedding season you experiment with the very favourite diamond jewellery and necklaces. Diamond wedding necklaces are absolutely stunning, pretty and elegant. Take a necklace that suits your wedding dress and then contrasts it with different coloured bangles and rings. We also recommend that you use other gems in combination with the diamond for your neckpiece, like this bride below. The combination of ruby, emerald do wonders when paired with diamonds. Complete the look with smoky eyes and dark eyeliner for better results.
Source: Pinterest.com
The Princess-like Royal Wedding Necklace



The second pick for this season is the princess-like royal wedding neckpieces. Now it is important to note that these pieces could be either in layers or single or could be heavily ornamented or just with one or two big stones. This category is vast enough to engulf almost all the neckpieces which give you the desired princess-like look. We usually find this trending in areas in and around Rajasthan. These pieces look absolutely stunning and give you that extra touch of glam and glitter. A rather darker eyeshadow and a softer makeup or nude makeup look bring out the best results for this look.
Source: Artkarat.com
The Heavily Studded Wedding Necklace



Now most of us get confused with the princess-like category and this one. Both look pretty similar but have this slight difference. The latter one is narrower than the former category. In this sense, we mean that the heavily studded necklaces are usually thicker and usually in a single layer. The stones are much bigger and heavier. These were predominantly adorned by the royalties and queens. They are the perfect blend of antiquity, elegance and royalty.
We highly recommend this look with a variety of colour combinations such as this bride. Experiment with the eyeliners, the eyeshadows and apply thicker quotes of eyeliner. Cat eye's look wonderful with thicker jewellery frames.
Source: Pinterest.com
Recommended Read: Most Beautiful Anklets For Your Wedding Day


Slender Wedding Necklace With Broader Accessories



What we mean by this category is that keep the wedding necklace rather slender as compared to your other accessories. It's all about experimentation under this category among our wedding necklace ideas. Make sure you use the right kind of makeup while wearing this necklace. Smoky eyes, thick eyeliner usually pops out your eyes and make them look a lot bigger, therefore it would look great with the necklace, and give you that extra spark of glam. We also recommend you to experiment with broader ear pieces, jhumka's and bali's, big decorated fancy bangles and maang tikka's. Also, a big bindi would look great with this majestic look.
Source: Pinterest.com
If you liked our post for wedding necklace ideas, make sure to like, comment and share it, as your feedback means a lot to us 🙂
Related