Being asked to be the best man is a great honor but your reputation as the best man is largely decided by how well the bachelor party went. So you will want to bring out the big guns for the event. The Bachelor party has the reputation of being raunchy and wild thanks to the images created by films but they need not be so. The vibe of the party depends on the groom and his friends and their tastes. Here, we have a few basic tips to get you started on your bachelor party planning. 
Loop In The Groom
Before we get into any aspect of planning, we wanted to tell you this- ask the groom what he wants. If he is looking forward to chilling with his best buddies, then a bar crawl is going to disappoint him. An outdoorsy guy may opt for a light party because he wants a break from the hectic wedding plan. On the other hand, a stay-at-home guy might want to do something adventurous as he bids goodbye to his single way. This is why it is crucial to get his opinion. You can still keep the finer details a secret and have your planning surprise him at the actual event. 
Set The Date
Try and set the date as early as possible so that everyone can plan accordingly, preferably a weekend. Fix a date which is a few weeks before the wedding, don't keep it too close to the date. If it is going to be a small crowd, then try and fix a date that works for everyone. You can get it easily done through an online thread or even a Whatsapp group. Again, make sure that you choose a date that is suitable for the guest of honor. 
Location
The location depends on the type of party that you are hosting. Anything works, from a game night at home to a destination bachelor party at Bali, it is up to what the groom wants. It also depends on your budget, so consult with everyone who is contributing and arrive at a number that works for you all before scouting for the location. A location does not always mean a bar/hotel, it can also be a fun activity like paintballing or bowling. 
Food & Drinks
There is nothing sadder than a bachelor party that runs out of food or booze. The groom's glass should never go empty and your guests must not go home on a half-empty stomach. Usually, finger food and snacks work as a lot of drinks are going to go down. Just ensure that there is enough to sustain the party into the night. You need to take extra care if you are having a house party. If it is an external location, check on the number of appetizers beforehand and order accordingly.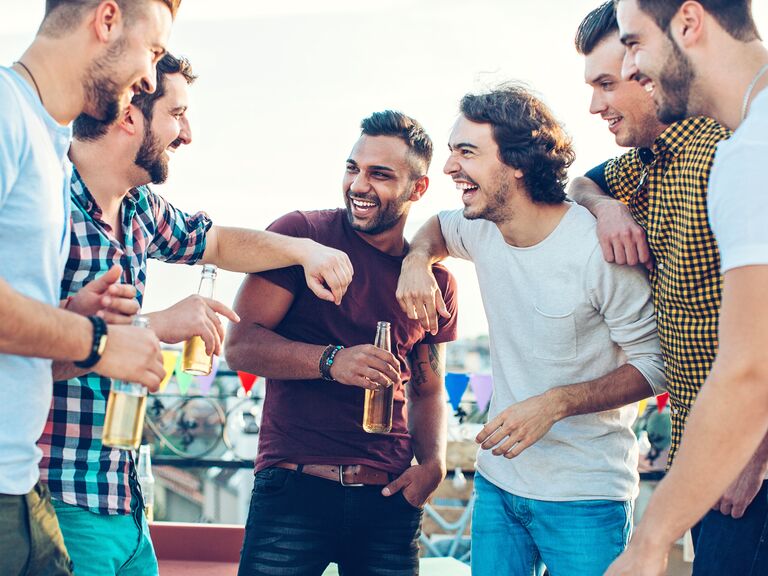 Guest List
Keep it short is the best advice that we can give. The bachelor party should involve only the groom's closest friends and relatives. That will help keep the party fun and entertaining for all those who are involved. Don't commit a faux pass of inviting someone that the groom is not on good terms with. Run the guest list by him before sending out invites. 
This may not something that you want to hear but as the best man, you need to keep your wits about you during the party in case things go south. We have all seen The Hangout and while it makes for a great movie, it is not something that you want to happen to you in reality.
Comments
comments
show