Wedding preparations are a chaotic and hasty process. And every bride-to-be wants her wedding to stand out by adding unique items to her big bay. Wanting to invest in trendy, uncommon items while keeping the budget in mind is a difficult task. To make these easier, Wedding show and exhibitions are just the place one needs to visit. These shows give a  preview of upcoming collections even before they hit the stores, and with the provision for special prices and discounts. Here is a list for the upcoming bridal and wedding trade shows in India so you can mark your calendars for the nearest one prior to its date.
Bridal and Wedding Trade Shows
Vogue Wedding Show
This VIP access only show is a must watch. Vogue offers a range of gorgeous and exquisite collections. This fashion show having models posing in their unique outfits is the hub for fashion.
Date: 4-6th August
Location: The Taj Palace, Diplomatic Enclave, New Delhi.
Check out their page: Vogue Wedding Show
Asia Wedding Fair 2018
The best South India's wedding and jewellery exhibition is rolling in this September so mark your calendars already! This event will showcase the latest collections from the manufactures and distributors from the wedding industry and lifestyle sectors with participants from all over the world
Date: 14-15-16th September 2018
Location: JW Marriott Hotel, Bengaluru.
Their page: Asia Wedding Fair
Bridal Asia
This is the to-go exhibit to find the A-list designers who will give you all that you need for your wedding day. This is the place for the trendsetters who will offer an exquisite range of unique and enchanting designs that will mesmerise you and will be on your wishlist to purchase.
Date: 23-25th September Delhi, Mumbai (9-11th August)
Location: The Ashok Hotel, Chanakyapuri, New Delhi
Check out their page: Bridal Asia Expo
 S&S Trunk Show
The S&S Trunk show is all about the marvellously western and Indian wear from around the globe. This show has some items which are definitely a steal so make sure you attend it to find some unique, trendiest items.
Date: 29th July
Location: The Hyatt Regency, New Delhi
Visit their page for more: S&S Trunk Show
Bride & Groom Exhibition-Delhi
Bride & Groom Exhibition-Delhi provides the attendees with information to plan a perfect wedding starting from cakes to catering, photographers, dresses, venues among many with the help of wedding professionals and planners.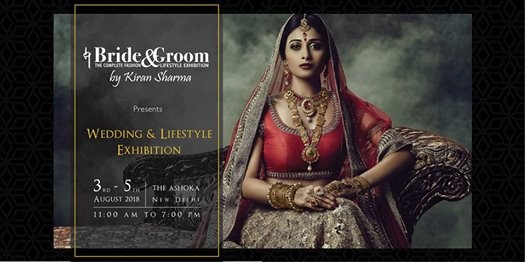 Date:  3-5th August 2018
Location: The Ashok Hotel, Chanakyapuri, New Delhi
Femina India Wedding Show
The Femina India Wedding Show offers an opportunity to be present with a brand exhibiting femininity and fashion for Indians. This show is a must watch to engage yourselves with a large range of brands and service providers. It offers a breath-taking, mesmerising range of opportunities for everything from custom couture to destination branding. FIWS gives an opportunity to position businesses by providing with networks and engagement with clients that can lead to sales in terms of business.
Date:  6-7th October 2018
Location: Mumbai Exhibition Centre, Mumbai.
Celebrating Vivaha
Celebrating Vivaha is one of the best wedding expo since it features all wedding agencies. With its astonishing selection of wedding professionals ready to help you find your perfect gown, venue, invitation, reception, photographers among many more, this is the place where you can plan your dream wedding. Availability of wedding planners, vendors and directors is the way to plan the perfect day.
Date:  15-17 December 2018
Location: The Ashok Hotel, Chanakyapuri, New Delhi
show