The best part about an international honeymoon is that you get to explore a new place with your life partner. And after the hectic preparations of the wedding, this awaited trip should be the one where you let out all your tension and rest for a while. There is nothing better than relaxing in the depths of nature and the warmth of hot springs. Thermal spas are breathtakingly beautiful and are capable to give you and your partner the best time of your lives. These offer hot springs, tropical gardens, steam caves, fantastic ocean and forest views among others. So if you're wondering about some of the world-renowned hot springs and thermal spas for the honeymoon, you should definitely book one of the spas from our list. Check it out!
Thermal Spas for Honeymoon
Here are some of the best hot springs and thermal spas which you can choose for your honeymoon –
1) Thermal Baths in Saturnia, Italy
A number of hot springs that stretch from Mout Amiata to the hills of Albenga and Fiora, till Roselle and Talamone, these are one of the best thermal spas for honeymoon.  Apart from its luxurious spa centre and exclusive wellness, Saturnia has two outdoor waterfalls which makes it a beautiful place to relax.
2) Blue Lagoon, Iceland
Offering one of the most breathtaking and enchanting views of Iceland, the  Blue Lagoon Geothermal Spa is the best spot for a honeymoon. Steamy, milky blue hot water, the salts and mud are perfect for the skin and relaxation.
Recommended Read: List of Honeymoon Essentials That You Should Carry Before You Leave
3) Pamukkale, Turkey
Giving one of the most unique and irresistible environment, this place in turkey also known as the "cotton castle" in Turkish. This is probably paradise on earth since it shows magical beauty which seems to be so surreal that it'll take a while to believe your eyes.
4) Grutas De Tolantongo, Hidalgo, Mexico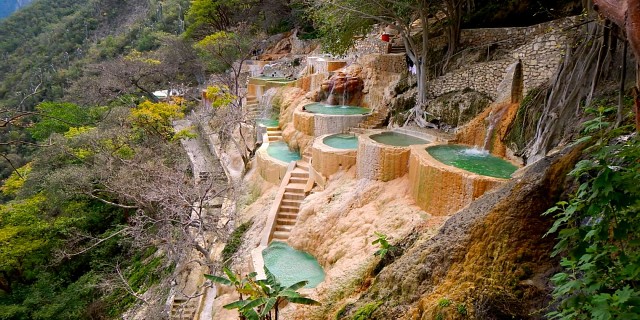 Situated in a semi-arid desert, you can enjoy thermal baths and springs in this beautiful place that offers enchanting views of Mexico. It's a natural, magical hot spring where you can let go of all the wedding tensions and explore the beauty of nature.
5) Four Seasons Resort Hualalai, Big Island, Hawaii
Located in a remote area of the Kailua-Kona region on the Big Island, the Four Seasons Hualalai Spa is a beautiful example of the tranquil Hawaiian atmosphere. Offering a range of tropical gardens, lap pools, whirlpools, saunas, steam rooms, and cold plunge pools, you can enjoy relaxing treatments outdoors or by booking private huts. Consider Hualalia's signature "Mahuaola" treatment, which includes native ingredients and a detoxifying scrub with your life partner.
6) Sakino-Yu, Shiraham, Japan
(Image Source – shutterstock)
A hot spring located at the seashore of the Pacific Ocean is said to be the oldest hot spring in Japan, offering Rotenburo (open-air baths). The place is known for its beautiful location and you can feel the sprays of the waves as they hit the shore.
7) Tabacon Grand Spa Thermal Resort, Costa Rica
Located at the base of an active volcano, this provides with the best experience of nature. The provide with exquisite bungalows set within colourful gardens surrounded by tropical forests and hot springs. Each private bungalow provides with an open-air Jacuzzi, the water of which comes from thermal hot springs. You should definitely try their Volcanic Mud Wrap, which uses mineral-rich clay from Costa Rica, making it really healthy and rejuvenates the skin.
Make your once-in-a-lifetime trip cherishable by selecting one of the most exclusive thermal spas for a honeymoon. Let us know about more spas in the comment section.
(Feature Image Source – Thestar.com)
Comments
comments
show